Ambiance has been discontinued. The app may continue to work on some devices, but there will be no more app updates in the future. All Ambiance Exclusive Sounds are still available as stand-alone, downloadable, seamless looping tracks on the official Ambiance Sound Store.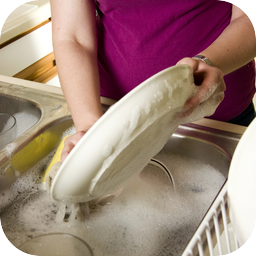 Sound Details
Rating:

4.5

Stars with

1,902

ratings
Category: Household
Released: over 8 years ago
Size: 5.51 MB
The champion of getting chores done, you are a dynamo in the kitchen. Just listen to the suave way you handle that delicate china. It's as if you were inspired from the heavens to touch the kitchen sink like a master artisan, not unlike Leonardo Da Vinci, you render the dirty dishes into a pristine pile of fine art with such clear and complete genius. Only a handful of people to have walked the earth could come close to imitating your style. In some European countries the dishes are generally washed in a separate tub placed inside the sink. This practice may have started as a matter of hygiene, as the kitchen sink was the only sink available for all the household water. The clothes were washed in the sink; the water used to wash the floor went down the sink, and so it made sense to separate the dishwater from the sink. There were two other possible reasons: First, kitchen sinks tended to be very large in a time when heating water was considered to be a major household expense; a tub used less water. Second, kitchen sinks were usually made of hard ceramic; any contact between the sink and plates was likely to cause chips, but a tub could be made of more forgiving material.