Ambiance has been discontinued. The app may continue to work on some devices, but there will be no more app updates in the future. All Ambiance Exclusive Sounds are still available as stand-alone, downloadable, seamless looping tracks on the official Ambiance Sound Store.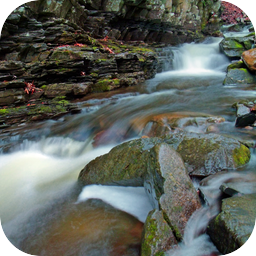 Sound Details
Rating:

3.5

Stars with

1,496

ratings
Category: Ground Water
Released: over 7 years ago
Size: 4.1 MB
The crumbled summit of this ancient extinct volcano causes the rain to cascade down and fill the valley with extensive access to the freshest water that heaven has ever sent to earth. You sit, waiting for the stream of water and the flow of life to fill you up and settle all of your unnatural anxieties so that you can return once again to the apartment in the city where fresh water waits in plastic bottles on the shelf. Broken Top is an extinct, glacially eroded stratovolcano in Oregon, part of the extensive Cascade Range. Eruptive activity stopped roughly 100,000 years ago, and currently, erosion by glaciers has reduced the volcano's cone to where its contents are exposed. Its initial eruptions during the Pleistocene, consisting of basaltic andesite lava, contributed to a base shield. The center of this edifice consists of agglomerate, which was oxidized, and intrusive dikes and geologic sills. Erratic eruptions continued afterward, erupting silicic lava. Much of the current cone is occupied by mafic flows of andesite, dacite, rhyodacite, and pyroclastic flows; these deposits extending from the subordinate volcano to the summit. The volcanic crater, now 0.8 km, was most likely subsidized. Broken Top resides in the Three Sisters Wilderness, which makes up 242,000 acres (980 km2) of the Willamette National Forest. About the area, there are geologic features such as Collier Glacier, Rock Mesa, Collier Cone, and Yapoah Crater.