Ambiance has been discontinued. The app may continue to work on some devices, but there will be no more app updates in the future. All Ambiance Exclusive Sounds are still available as stand-alone, downloadable, seamless looping tracks on the official Ambiance Sound Store.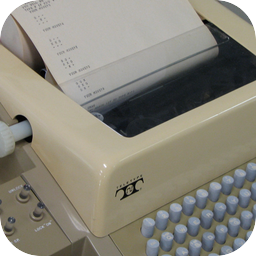 Sound Details
Rating:

4.5

Stars with

1,132

ratings
Category: Other
Released: over 7 years ago
Size: 3.51 MB
Deep inside this diligent dungeon an endless stream of statistics and current events comes clicking through the teletype machine. The eager reporters scan the pages, intently seeking the sign of the next big story that they can sink their teeth into. A teletype is a electromechanical typewriter that can be used to communicate typed messages from point to point and point to multipoint over a variety of communication channels that range from a simple electrical connection, such as a pair of wires, to the use of radio and microwave as the transmission medium. They could also serve as a command line interface to early mainframe computers and minicomputers, sending typed data to the computer with or without printed output, and printing the response from the computer. In 1902, electrical engineer Frank Pearne approached Joy Morton, head of Morton Salt, seeking a sponsor for research into the practicalities of developing a printing telegraph system. Joy Morton needed to determine whether this was worthwhile and so consulted mechanical engineer Charles Krum, who was vice president of the Western Cold Storage Company. Krum was interested in helping Pearne, so space was set up in a laboratory in the attic of Western Cold Storage. In 1904, Krum filed a patent for a 'type wheel printing telegraph machine'.