Ambiance has been discontinued. The app may continue to work on some devices, but there will be no more app updates in the future. All Ambiance Exclusive Sounds are still available as stand-alone, downloadable, seamless looping tracks on the official Ambiance Sound Store.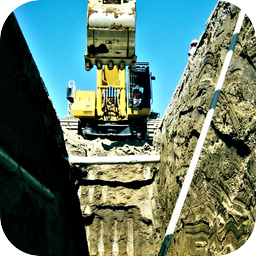 Sound Details
Rating:

4.0

Stars with

1,188

ratings
Category: Industrial
Released: about 6 years ago
Size: 6.3 MB
The dirt tumbles all around as if some giant mechanical baker was making a pie, brown flower filling the air and clogging your nostrils with the flavorful essence of earth. You decide to stand further back and watch the construction captain carry the world away like a gravel wielding wizard, a noisy yellow ninja slicing through the subterranean kingdom on his way to assassinate the worm queen. Excavators are heavy construction equipment consisting of a boom, stick, bucket and cab on a rotating platform (known as the "house"). The house sits atop an undercarriage with tracks or wheels. A cable-operated excavator uses winches and steel ropes to accomplish the movements. Engines in excavators drive hydraulic pumps; there are usually 3 pumps: the two main pumps are for supplying oil at high pressure (up to 5000 psi) for the rams, swing motor, track motors, and accessories, and the third is a lower pressure (700 psi) pump for Pilot Control, this circuit used for the control of the spool valves, this allows for a reduced effort required when operating the controls. Before the 1990s, all excavators had a long or conventional counterweight that hung off the rear of the machine to provide more digging force and lifting capacity. This became a nuisance when working in confined areas. In 1993 Yanmar launched the world's first Zero Tail Swing excavator, which allows the counterweight to stay inside the width of the tracks as it slews, thus being safer and more user friendly when used in a confined space. This type of machine is now widely used throughout the world.