Ambiance has been discontinued. The app may continue to work on some devices, but there will be no more app updates in the future. All Ambiance Exclusive Sounds are still available as stand-alone, downloadable, seamless looping tracks on the official Ambiance Sound Store.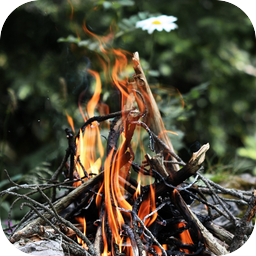 Sound Details
Rating:

3.5

Stars with

3,127

ratings
Category: Fire
Released: almost 8 years ago
Size: 1.66 MB
The flames dance in the moonlight, almost inspiring you to get up and dance the night away. Instead of standing you simply close your eyes and start hopping away inside your head, a much easier thing to do after a weekend of walking through thick woods on your way to anywhere. The mountain air inspires an even deeper dance, one that carries you away into the glowing warmth of dreamland. Ideally, campfires should be made in a fire ring. If a fire ring is not available, a temporary fire site may be constructed. Bare rock or unvegetated ground is ideal for a fire site. Alternatively, turf may be cut away to form a bare area and carefully replaced after the fire has cooled to minimize damage. Another way is to cover the ground with sand, or other soil mostly free of flammable organic material, to a depth of a few inches. A ring of rocks is sometimes constructed around a fire. Fire rings, however, do not fully protect material on the ground from catching fire. Flying embers are still a threat, and the fire ring may become hot enough to ignite material in contact with it. Leaving a fire unattended can be dangerous. Any number of accidents might occur in the absence of people, leading to property damage, personal injury or possibly a wildfire. Ash is a very good insulator, so embers left overnight will only lose a fraction of their heat. It is even possible to restart the new day's fire by using the embers as an igniting device. Large amounts of water can be very useful for extinguishing a fire. To properly cool a fire, water should be splashed on all the embers, including places that are not glowing red. Splashing the water is both more effective and efficient in extinguishing the fire. The water will boil violently and carry ash in the air with it, dirtying anything nearby but not posing a safety hazard.