Ambiance has been discontinued. The app may continue to work on some devices, but there will be no more app updates in the future. All Ambiance Exclusive Sounds are still available as stand-alone, downloadable, seamless looping tracks on the official Ambiance Sound Store.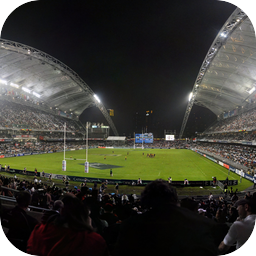 Sound Details
Rating:

4.5

Stars with

1,164

ratings
Category: Sports
Released: over 7 years ago
Size: 4.09 MB
The throngs of smiling summer fans fills the stadium with their buckets of beer and handfuls of favorite junk food. The sun shines strongly throughout the enormous arena, causing every applause to be so physically exhausting in the heat that by the end of each cheer half the stadium stands for a refill. You try to beat the first hundred to the counter so you can be back in time for the next ten goals. Stadium, comes from the Greek word "stadion", a measure of length equalling approximately 200 meters. The oldest known stadium is the one in Olympia, in the western Peloponnese, Greece, where the Olympic Games of antiquity were held since 776 BC. Initially 'the Games' consisted of a single event, a sprint along the length of the stadium. Therefore the length of Olympia's stadium became somewhat of a standard measure of distance. The first stadium to be used in modern times, and the only one to be used during the 19th century, was the excavated and refurbished ancient Panathenaic stadium which has hosted Olympic Games in 1870, 1875, 1896, 1906, and 2004. The excavation and refurbishment of the stadium was part of the legacy of the Greek national benefactor Evangelos Zappas. From the 1960s stadiums began to be used as live music venues, giving rise to the term "stadium rock", particularly for forms of hard rock and progressive rock. The origins of stadium rock are sometimes dated to when The Beatles played Shea stadium in New York in 1965. Also important was the use of large stadiums for American tours by bands in the later 1960s, such as The Rolling Stones, Grand Funk Railroad and Led Zeppelin.