Ambiance has been discontinued. The app may continue to work on some devices, but there will be no more app updates in the future. All Ambiance Exclusive Sounds are still available as stand-alone, downloadable, seamless looping tracks on the official Ambiance Sound Store.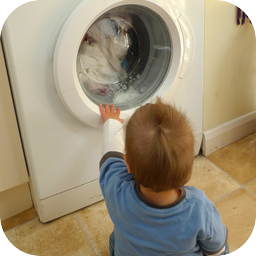 Sound Details
Rating:

4.0

Stars with

1,344

ratings
Category: Household
Released: over 7 years ago
Size: 5.1 MB
The soft sound of spinning pulls you from your sleep, slowing stirring the edges of your consciousness to life, and making you wonder who could be doing laundry and 3am? After considering actually exiting your cozy warm covers to go investigate, you decide that no matter how strange the timing of this household chore might seem, it can only mean that you will have some fresh smelling socks tomorrow, so no need to worry. The earliest machines were hand-operated. As electricity was not commonly available until at least 1930, some early machines were operated by a low-speed single-cylinder hit and miss gasoline engine. By the mid-1850s steam-driven commercial laundry machinery was on sale in the USA and Great Britain. Technological advances in machinery for commercial and institutional laundries proceeded faster than domestic washer design for several decades, especially in the UK. In the US there was more emphasis on developing machines for washing at home, as well as machines for the commercial laundry services which were widely used in the late 19th and early 20th centuries. The first English patent under the category of Washing and Wringing Machines was issued in 1691. A drawing of an early washing machine appeared in the January 1752 issue of "The Gentlemen's Magazine," a British publication. In Germany, Jacob Christian Schäffer's washing machine design was published in 1767. In 1782 Henry Sidgier was issued a British patent for a rotating drum washer, and in the 1790s Edward Beetham sold numerous "patent washing mills" in England. In 1862, a patented "compound rotary washing machine, with rollers for wringing or mangling" was shown at the 1862 London Exhibition, done by Richard Lansdale of Pendleton, Manchester.