Ambiance has been discontinued. The app may continue to work on some devices, but there will be no more app updates in the future. All Ambiance Exclusive Sounds are still available as stand-alone, downloadable, seamless looping tracks on the official Ambiance Sound Store.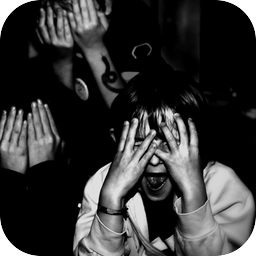 Sound Details
Rating:

4.5

Stars with

1,192

ratings
Category: Other
Released: over 7 years ago
Size: 5.6 MB
The emptiness is filled with the blackest night, sinking deep into an endless expanse, immaterial and unknowable. You stare, empty-eyed, into the nothingness and let your jaw drop, holding your frozen face in a silent scream of horror so profound that in a thousand generations your descendants will still be able to hear your yell in their sleep, and in those afternoon moments of silence during the day. The distinction between horror and terror is a standard literary and psychological concept applied especially to Gothic literature and film. Terror is usually described as the feeling of dread and anticipation that precedes the horrifying experience. By contrast, horror is the feeling of revulsion that usually occurs after something frightening is seen, heard, or otherwise experienced. It is the feeling one gets after coming to an awful realization or experiencing a deeply unpleasant occurrence. In other words, horror is more related to being shocked or scared (being horrified), while terror is more related to being anxious or fearful. Horror has also been defined as a combination of terror and revulsion. The distinction between terror and horror was first characterized by the Gothic writer Ann Radcliffe (1764–1823). Terror is characterized by "obscurity" or indeterminacy in its treatment of potentially horrible events; it is this indeterminacy which leads to the sublime. She says in the essay that it "expands the soul and awakens the faculties to a high degree of life". Horror, in contrast, "freezes and nearly annihilates them" with its unambiguous displays of atrocity. She goes on: "I apprehend that neither Shakespeare nor Milton by their fictions, nor Mr Burke by his reasoning, anywhere looked to positive horror as a source of the sublime, though they all agree that terror is a very high one; and where lies the great difference between horror and terror, but in uncertainty and obscurity, that accompany the first, respecting the dreader evil."