Ambiance has been discontinued. The app may continue to work on some devices, but there will be no more app updates in the future. All Ambiance Exclusive Sounds are still available as stand-alone, downloadable, seamless looping tracks on the official Ambiance Sound Store.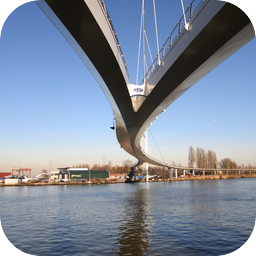 Sound Details
Rating:

3.5

Stars with

1,390

ratings
Category: Ground Water
Released: over 7 years ago
Size: 2.17 MB
The sweet smelling scent of coastal plants fills the air as you wade into the cool waters of this refreshing waterway. The sun shinning on your back breaks through the feel of the water as it surrounds and then slips off of your skin. Such a day as this is so very welcome, and not too many left before the sunny days are few and the chilly winter sets in, forcing you to hide in your house baking something new. The Amsterdam–Rhine Canal or Amsterdam-Rijnkanaal is a canal in the Netherlands that was built to connect the port city of Amsterdam to the main shipping artery of the Rhine. Its course follows a generally southeasterly direction as it goes through the city of Utrecht towards Wijk bij Duurstede where it intersects the Lek branch of the Rhine and then continues on to the Waal river near Tiel, with a branch, the Lek Canal, to the Lek near Nieuwegein. Amsterdam is the largest city and the capital of the Netherlands. The current position of Amsterdam as capital city of the Kingdom of the Netherlands is governed by the constitution of August 24, 1815 and its successors. Amsterdam has a population of 783,364 within city limits, an urban population of 1,209,419 and a metropolitan population of 2,158,592. The city is in the province of North Holland in the west of the country. It comprises the northern part of the Randstad, one of the larger conurbations in Europe, with a population of approximately 7 million. Its name is derived from Amstelredamme, indicative of the city's origin: a dam in the river Amstel. Settled as a small fishing village in the late 12th century, Amsterdam became one of the most important ports in the world during the Dutch Golden Age, a result of its innovative developments in trade.