Ambiance has been discontinued. The app may continue to work on some devices, but there will be no more app updates in the future. All Ambiance Exclusive Sounds are still available as stand-alone, downloadable, seamless looping tracks on the official Ambiance Sound Store.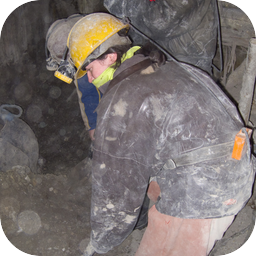 Sound Details
Rating:

4.0

Stars with

1,128

ratings
Category: Industrial
Released: almost 6 years ago
Size: 5.72 MB
The tiny cave, hundreds of meters below the surface, is dark and damp, yet the miner manages to press onward, chipping away at the hard earth that could be the home of her fortune, or the tomb of her timeless, unfruitful toil. No matter the risk, she hammers away at an endless expanse of grey and brown, hoping the Gods above and the Gamblers below find favor with her endeavor. Mining is the extraction of valuable minerals or other geological materials from the earth, from an ore body, vein or seam. The term also includes the removal of soil. Materials recovered by mining include base metals, precious metals, iron, uranium, coal, diamonds, limestone, oil shale, rock salt and potash. Any material that cannot be grown through agricultural processes, or created artificially in a laboratory or factory, is usually mined. Mining in a wider sense comprises extraction of any non-renewable resource such as, petroleum, natural gas, or water. Mining of stone and metal has been done since pre-historic times. Modern mining processes involve prospecting for ore bodies, analysis of the profit potential of a proposed mine, extraction of the desired materials and finally reclamation of the land to prepare it for other uses once the mine is closed. The nature of mining processes creates a potential negative impact on the environment both during the mining operations and for years after the mine is closed. This impact has led to most of the world's nations adopting regulations to moderate the negative effects of mining operations. Safety has long been a concern as well, though modern practices have improved safety in mines significantly.