Ambiance has been discontinued. The app may continue to work on some devices, but there will be no more app updates in the future. All Ambiance Exclusive Sounds are still available as stand-alone, downloadable, seamless looping tracks on the official Ambiance Sound Store.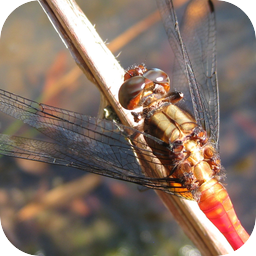 Sound Details
Rating:

3.5

Stars with

2,712

ratings
Category: Ground Water
Released: about 7 years ago
Size: 4.55 MB
The crisp little creek trickles over your toes, cleaning off the the days toil, and refreshing the unsung heroes of our lives. Little insects buzz around your head, but not too close to annoy you. They are just curious little creatures, checking to see if any part of you is edible and sweet. A stream is a body of water with a current, confined within a bed and stream banks. Depending on its locale or certain characteristics, a stream may be referred to as a branch, brook, beck, burn, creek, "crick", gill, kill, lick, rill, river, syke, bayou, rivulet, streamage, wash, run or runnel. Streams are important as conduits in the water cycle, instruments in groundwater recharge, and corridors for fish and wildlife migration. The biological habitat in the immediate vicinity of a stream is called a riparian zone. Given the status of the ongoing Holocene extinction, streams play an important corridor role in connecting fragmented habitats and thus in conserving biodiversity. The study of streams and waterways in general is known as surface hydrology and is a core element of environmental geography. Streams typically derive most of their water from precipitation in the form of rain and snow. Most of this water re-enters the atmosphere by evaporation from soil and water bodies, or by the evapotranspiration of plants. Some of the water proceeds to sink into the earth by infiltration and becomes groundwater, much of which eventually enters streams.