Ambiance has been discontinued. The app may continue to work on some devices, but there will be no more app updates in the future. All Ambiance Exclusive Sounds are still available as stand-alone, downloadable, seamless looping tracks on the official Ambiance Sound Store.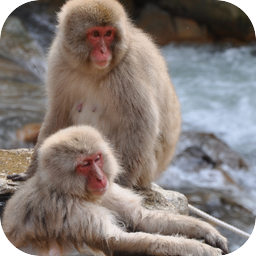 Sound Details
Rating:

3.5

Stars with

1,245

ratings
Category: Animals
Released: over 7 years ago
Size: 3.54 MB
The softly flowing river records within its trickle the eerie sounds of monkeys making their nightly calls along the riverbank. The trees shake and the rocks seem to come alive as these little grey animals leap and dart from place to place, summoning some ancient spirits from the forest to grab and poke at the ears of all who linger around the water's edge. You try not to shiver with fear as you unwillingly listen to these frightening howls in the night. There are about 260 known living species of monkey. Many are arboreal, although there are species that live primarily on the ground, such as baboons. Monkeys are generally considered to be intelligent. Unlike apes, monkeys usually have tails. Tailless monkeys may be called "apes", incorrectly according to modern usage. According to the Oxford English Dictionary, the word "monkey" may originate in a German version of the Reynard the Fox fable, published circa 1580. In this version of the fable, a character named Moneke is the son of Martin the Ape. In English, no very clear distinction was originally made between "ape" and "monkey"; thus the 1910 Encyclopædia Britannica entry for "ape" notes that it is either a synonym for "monkey" or is used to mean a tailless humanlike primate. Later in the first half of the 20th century, the idea developed that there were trends in primate evolution and that the living members of the order could be arranged in a series, leading through "monkeys" and "apes" to humans. Monkeys thus constituted a "grade" on the path to humans and were distinguished from "apes".