Ambiance has been discontinued. The app may continue to work on some devices, but there will be no more app updates in the future. All Ambiance Exclusive Sounds are still available as stand-alone, downloadable, seamless looping tracks on the official Ambiance Sound Store.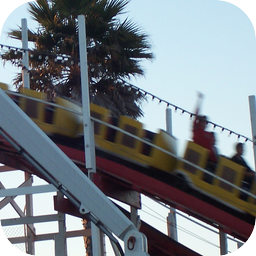 Sound Details
Rating:

4.5

Stars with

1,127

ratings
Category: Other
Released: over 7 years ago
Size: 3.41 MB
The palm trees wave in the warm ocean breeze and shake as the screaming roller coaster speeds past, tiny hands holding on for dear life. You watch the excited faces, enjoying the click of the metal wheels along the track, and soon are transported to a time when you were a child, and the Giant Dipper seemed like a monster that you would not dare approach. The Giant Dipper is a historic wooden roller coaster located at the Santa Cruz Beach Boardwalk, an amusement park in Santa Cruz, California. It opened on May 17, 1924. It is the fifth-oldest roller coaster in the United States; over 55 million riders have ridden it since its opening. The United States National Park Service recognized the Giant Dipper as part of a National Historic Landmark also covering the nearby Looff carousel in 1987. It was named an American Coaster Enthusiasts Coaster Landmark on May 5, 2007. The ride appeared in many television commercials and movies, including The Lost Boys, Sudden Impact and Dangerous Minds. The Giant Dipper was built by Arthur Looff (1888–1970) in 1924 in just 47 days at a cost of $50,000. It replaced the much tamer miniature railway ride designed by LaMarcus Adna Thompson. Looff described his plans for the coaster as a, "combination earthquake, balloon ascension, and aeroplane drop." Looff's father, Charles I. D. Looff, built the carousel on the Santa Cruz Beach Boardwalk in 1911; both attractions continue to operate today. The ride originally cost riders 15 cents per ride.