Ambiance has been discontinued. The app may continue to work on some devices, but there will be no more app updates in the future. All Ambiance Exclusive Sounds are still available as stand-alone, downloadable, seamless looping tracks on the official Ambiance Sound Store.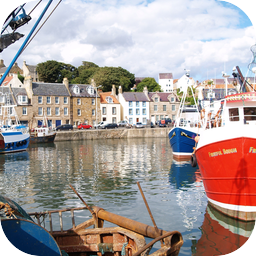 Sound Details
Rating:

4.5

Stars with

1,175

ratings
Category: Other Transport
Released: over 7 years ago
Size: 6.76 MB
Your sturdy life companion, the boat beneath your feet, steers faithfully into port, helping you and your family haul in the day's catch to feed yourselves and your village for another week. Without realizing it, a tear appears beneath your eye and runs down your cheek. You've had so few moments to let your mind wander to a place where you can fully appreciate the beauty and importance of your profession. A fishing village is a village, usually located near a fishing ground, with an economy based on catching fish and harvesting seafood. The continents and islands around the world have coastlines totalling around 356,000 kilometres (221,000 mi). From Neolithic times, these coastlines, as well as the shorelines of inland lakes and the banks of rivers, have been punctuated with fishing villages. Most surviving fishing villages are traditional. Coastal fishing villages are often somewhat isolated, and sited around a small natural harbour which provides safe haven for a village fleet of fishing boats. The village needs to provide a safe way of landing fish and securing boats when they are not in use. Fishing villages may operate from a beach, particularly around lakes. For example, around parts of Lake Malawi, each fishing village has its own beach. If a fisherman from outside the village lands fish on the beach, he gives some of the fish to the village headman. Village fishing boats are usually characteristic of the stretch of coast along which they operate. Traditional fishing boats evolve over time to meet the local conditions, such as the materials available locally for boat building, the type of sea conditions the boats will encounter, and the demands of the local fisheries.