Ambiance has been discontinued. The app may continue to work on some devices, but there will be no more app updates in the future. All Ambiance Exclusive Sounds are still available as stand-alone, downloadable, seamless looping tracks on the official Ambiance Sound Store.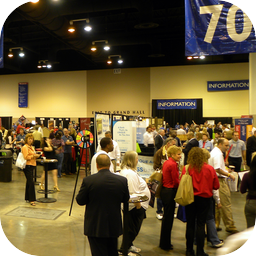 Sound Details
Rating:

4.5

Stars with

1,729

ratings
Category: Other
Released: about 7 years ago
Size: 3.26 MB
Big-bellied men in brown shoes take turns turning over the pages of pristine promotional brochures, containing some small company's hopes and dreams, while tall turtle-necked ladies lazily peruse along the aisles, pointing at shiny objects and Facebook friends that they met at last year's convention. Over the loudspeaker lunch is listed, and the afternoon festivities of half-baked business ideas, potential power brokers, and wandering financial wizards meet at the bar to have their brush with greatness. A trade show is an exhibition organized so that companies in a specific industry can showcase and demonstrate their latest products, service, study activities of rivals and examine recent market trends and opportunities. Modern trade shows follow in the tradition of trade fairs established in late medieval Europe, in the era of merchant capitalism. In this era, produce and craft producers visited towns for trading fairs, to sell and showcase products. From the late eighteenth century, Industrial Exhibitions in Europe and North America became more common reflecting the technological dynamism of the industrial revolution. They are held on a continuing basis in virtually all markets and normally attract companies from around the globe. For example, in the U.S. there are currently over 2500 trade shows held every year, and several online directories have been established to help organizers, attendees, and marketers identify appropriate events.