Ambiance has been discontinued. The app may continue to work on some devices, but there will be no more app updates in the future. All Ambiance Exclusive Sounds are still available as stand-alone, downloadable, seamless looping tracks on the official Ambiance Sound Store.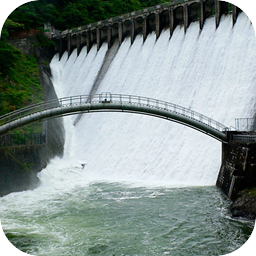 Sound Details
Rating:

3.5

Stars with

2,062

ratings
Category: Ground Water
Released: about 7 years ago
Size: 4.18 MB
Mountains of white foam flee through the metal and concrete channels setup to stir the strength of nature's most powerful force into massive amounts of electricity, crowning modern cities with currents of light that shine out over the countryside, spurring curious stares from the slightly frightened animals that were once the rivets that held the human home together, and perhaps still are. The Möhne Reservoir is an artificial lake some 45 km east of Dortmund, Germany. The lake is formed by the damming of two rivers, Möhne and Heve, and with its four basins stores as much as 135 million cubic metres of water. The dam was built between 1908 and 1913 to help control floods, regulate water levels on the Ruhr river downstream, and generate hydropower. Today, the lake is also a tourist attraction. The dam was destroyed by British bombers in WW2. A huge hole of 77 m by 22 m was blown into the dam. The resulting huge floodwave killed at least 1579 people, 1026 of them foreign forced labourers held in camps downriver. The small city of Neheim-Hüsten was particularly hard-hit with over 800 victims, among them at least 526 victims in a camp for Russian women held for forced labour. Dortmund is known as a "green metropolis." Nearly half the municipal territory consists of waterways, woodland, agriculture and green spaces with spacious parks such as Westfalenpark and the Rombergpark. This contrasts with nearly a hundred years of extensive coal mining and steel milling within the city limits.