Ambiance has been discontinued. The app may continue to work on some devices, but there will be no more app updates in the future. All Ambiance Exclusive Sounds are still available as stand-alone, downloadable, seamless looping tracks on the official Ambiance Sound Store.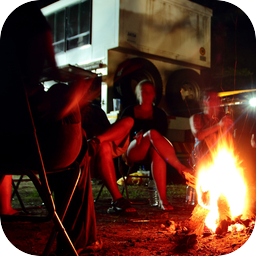 Sound Details
Rating:

3.5

Stars with

2,956

ratings
Category: Fire
Released: about 7 years ago
Size: 6.19 MB
Another evening around the fire begins as the brews are opened and the first raw jokes are tossed around from one person to another like a hot potato. You relax in your folding recliner and take a gander up at the stars, trying to decide if you should ask your wife what sign she is so that you can find it in the night's sky, but soon realize that the loving gesture would go unnoticed in light of your terribly unromantic memory. The ability to control fire was a dramatic change in the habits of early humans. Making fire to generate heat and light made it possible for people to cook food, increasing the variety and availability of nutrients. The heat produced would also help people stay warm in cold weather, enabling them to live in cooler climates. Fire also kept nocturnal predators at bay. Evidence of cooked food is found from 1.9 million years ago, although fire was probably not used in a controlled fashion until 1,000,000 years ago. Fire has also been used for centuries as a method of torture and execution, as evidenced by death by burning as well as torture devices such as the iron boot, which could be filled with water, oil, or even lead and then heated over an open fire to the agony of the wearer. Growing population, fragmentation of forests and warming climate are making the earth's surface more prone to ever-larger escaped fires. These harm ecosystems and human infrastructure, cause health problems, and send up spirals of carbon and soot that may encourage even more warming of the atmosphere–and thus feed back into more fires. Globally today, as much as 5 million square kilometers–an area more than half the size of the United States–burns in a given year.