Ambiance has been discontinued. The app may continue to work on some devices, but there will be no more app updates in the future. All Ambiance Exclusive Sounds are still available as stand-alone, downloadable, seamless looping tracks on the official Ambiance Sound Store.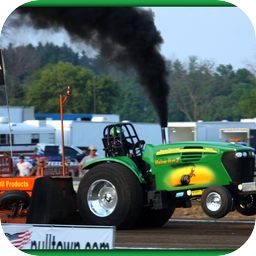 Sound Details
Rating:

4.5

Stars with

1,698

ratings
Category: Sports
Released: over 6 years ago
Size: 5.67 MB
This years Columbia County Tractor Pull looks and sounds more exciting than ever. The tractors' engines have been modified and the ousides have been painted in bright colors. Truck and Tractor pulling, also known as power pulling, is a motorsport competition, popular in America, Europe (especially in the Netherlands), Australia and Brazil, which requires modified tractors to pull a heavy sledge (sled) along a 35 ft wide and length of 100 meter or 300 ft+ track, with the winner being the tractor that pulls the sledge farthest. The sport is known as the world's most powerful motorsport, due to the multi-engined modified tractor pullers. All tractors, in their respective classes, pull a set weight in the sledge. When a tractor gets to the end of the 100 metre (300 feet) track this is known as a "full pull". When more than one tractor completes the course, more weight is added to the sledge, and those competitors that went past 300 feet will have a pull-off; the winner is the one who can pull the sledge the farthest.