Ambiance has been discontinued. The app may continue to work on some devices, but there will be no more app updates in the future. All Ambiance Exclusive Sounds are still available as stand-alone, downloadable, seamless looping tracks on the official Ambiance Sound Store.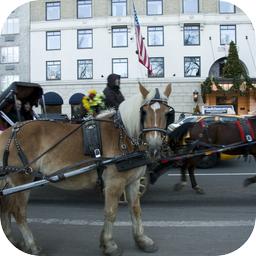 Sound Details
Rating:

4.5

Stars with

1,706

ratings
Category: Other Transport
Released: about 6 years ago
Size: 5.3 MB
A carriage is a wheeled vehicle for people, usually horse-drawn; litters (palanquins) and sedan chairs are excluded, since they are wheelless vehicles. The carriage is especially designed for private passenger use and for comfort or elegance, though some are also used to transport goods. It may be light, smart and fast or heavy, large and comfortable. An almost bewildering variety of horse-drawn carriages existed. Arthur Ingram's Horse Drawn Vehicles since 1760 in Colour lists 325 types with a short description of each. By the early 19th century one's choice of carriage was only in part based on practicality and performance; it was also a status statement and subject to changing fashions. A trap, pony trap or horse trap is a light, often sporty, two-wheeled or sometimes four-wheeled horse-drawn carriage, accommodating usually two to four persons in various seating arrangements, such as face-to-face or back-to-back.