Ambiance has been discontinued. The app may continue to work on some devices, but there will be no more app updates in the future. All Ambiance Exclusive Sounds are still available as stand-alone, downloadable, seamless looping tracks on the official Ambiance Sound Store.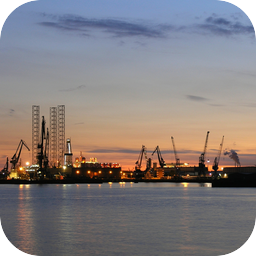 Sound Details
Rating:

4.5

Stars with

1,692

ratings
Category: Other Transport
Released: about 5 years ago
Size: 6.54 MB
The shipyard is fully of vessels coming and going. The cranes lift heavy crates from the ship containers and transfer them to the waiting trucks. The threading of chains and heavy machinery is a constant hum. The containers sway in mid air as the taken off of the ships and deposited onto the waiting trucks and others are stacked for later delivery. A crane is a type of machine, generally equipped with a hoist, wire ropes or chains, and sheaves, that can be used both to lift and lower materials and to move them horizontally. It is mainly used for lifting heavy things and transporting them to other places. It uses one or more simple machines to create mechanical advantage and thus move loads beyond the normal capability of a man. Cranes are commonly employed in the transport industry for the loading and unloading of freight, in the construction industry for the movement of materials and in the manufacturing industry for the assembling of heavy equipment.