Ambiance has been discontinued. The app may continue to work on some devices, but there will be no more app updates in the future. All Ambiance Exclusive Sounds are still available as stand-alone, downloadable, seamless looping tracks on the official Ambiance Sound Store.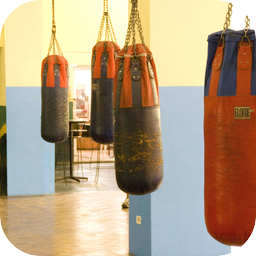 Sound Details
Rating:

4.0

Stars with

1,680

ratings
Category: Sports
Released: over 5 years ago
Size: 5.08 MB
There is magnificent and powerful force behind each strike against the heavy punching bag. Each thrust swings the bag with momentum and it rattles off of the thick metal chains. You are the active and powerful force, using your own body's strength to create a rhythmic dance of shadow boxing. Punching bags have been used in martial arts and swordplay for the entire written history of military training. Similar apparatus in Asian martial arts include the Okinawan makiwara and the Chinese mook jong, which may have padded striking surfaces attached to them.