Ambiance has been discontinued. The app may continue to work on some devices, but there will be no more app updates in the future. All Ambiance Exclusive Sounds are still available as stand-alone, downloadable, seamless looping tracks on the official Ambiance Sound Store.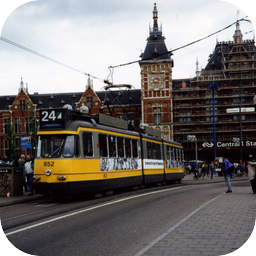 Sound Details
Rating:

4.5

Stars with

1,703

ratings
Category: Other Transport
Released: over 5 years ago
Size: 5.24 MB
The tram circles the quaint city of Amsterdam leaves both tourists and locals at their destinations with very little hassle. Each stop is announced, and the tram hums along its way picking up and dropping off passengers with eager efficiency. The bell rings joyfully as the next station is reached. The Amsterdam tramway network (Dutch: Amsterdamse tramweg netwerk) forms part of the public transport system in Amsterdam, the capital of the Netherlands. Opened in 1875, the network has been operated since 1943 by Gemeentelijk Vervoerbedrijf (GVB), which also runs a large urban bus network.The trams on the network run on standard gauge track. Since 1900, they have been powered by electricity, at 600 V DC. At the termini of almost every tram line there is a suitable turning loop, so that the line can be operated by unidirectional trams. The only exception is Amstelveen Binnenhof, one of the termini of line 5, which must therefore be served by bidirectional vehicles. With 16 lines, the network comprises a total of 80.5 km (50.0 mi) of track, with some sections used only for vehicles not in service. The fleet is made up of 237 trams, of which 24 are bidirectional and thus suitable for operations on loop-less line 5.