Ambiance has been discontinued. The app may continue to work on some devices, but there will be no more app updates in the future. All Ambiance Exclusive Sounds are still available as stand-alone, downloadable, seamless looping tracks on the official Ambiance Sound Store.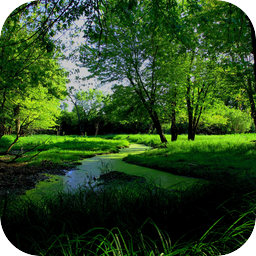 Sound Details
Rating:

4.0

Stars with

1,760

ratings
Category: Insects
Released: over 5 years ago
Size: 3.11 MB
The Minnesota evening is alive with the sounds of insects serenading each other. Camouflaged within the lush darkness, they call out to one another as if was each was eager to retell the events of their day. All else is still, as you sit on the porch lulled into relaxation. A swamp is a wetland that is forested. Many swamps occur along large rivers where they are critically dependent upon natural water level fluctuations. Other swamps occur on the shores of large lakes.[3] Some swamps have hammocks, or dry-land protrusions, covered by aquatic vegetation, or vegetation that tolerates periodic inundation. The two main types of swamp are "true" or swamp forests and "transitional" or shrub swamps. In the boreal regions of Canada, the word swamp is colloquially used for what is more correctly termed a bog or muskeg. The water of a swamp may be fresh water, brackish water or seawater. Some of the world's largest swamps are found along major rivers such as the Amazon, the Mississippi, and the Congo.