Ambiance has been discontinued. The app may continue to work on some devices, but there will be no more app updates in the future. All Ambiance Exclusive Sounds are still available as stand-alone, downloadable, seamless looping tracks on the official Ambiance Sound Store.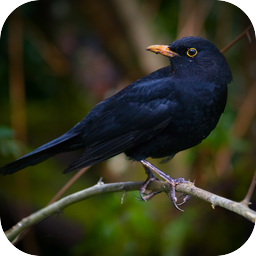 Sound Details
Rating:

4.0

Stars with

1,841

ratings
Category: Birds
Released: about 5 years ago
Size: 4.01 MB
The symphony of the blackbirds weaves itself throughout the trees and brings with it a sense of immense joy. Their songs follow you from amongst the treetops and serenade your walk. Their excitement can be traced through their incessant chatter. The Common Blackbird (Turdus merula) is a species of true thrush. It is also called Eurasian Blackbird (especially in North America, to distinguish it from the unrelated New World blackbirds), or simply Blackbird, where this does not lead to confusion with a similar-looking local species. It breeds in Europe,Asia, and North Africa, and has been introduced to Australia (where it is considered a pest) and New Zealand. It has a number of subspecies across its large range; a few of the Asian subspecies are sometimes considered to be full species. Depending on latitude, the Common Blackbird may be resident, partially migratory or fully migratory.