Ambiance has been discontinued. The app may continue to work on some devices, but there will be no more app updates in the future. All Ambiance Exclusive Sounds are still available as stand-alone, downloadable, seamless looping tracks on the official Ambiance Sound Store.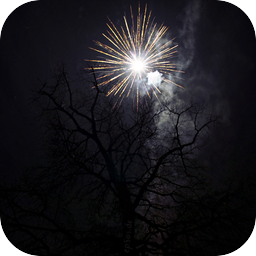 Sound Details
Rating:

4.5

Stars with

1,840

ratings
Category: Fire
Released: over 5 years ago
Size: 4.25 MB
An eruption of sound and color spreads across the sky as the fireworks illuminate the night. In the distance, it looks as if the stars themselves were set alight, and slivers of starlight glide along, and disappear into the earth. Fireworks are a class of explosive pyrotechnic devices used for aesthetic, cultural, and religious purposes. The most common use of a firework is as part of a fireworks display. A fireworks event (also called a fireworks show or pyrotechnics) is a display of the effects produced by firework devices. Fireworks competitions are also regularly held at a number of places. Fireworks take many forms to produce the four primary effects: noise, light, smoke and floating materials (confetti for example.) They may be designed to burn with flames and sparks of many colors, typically red, orange, yellow, green, blue, purple, and silver. Displays are common throughout the world and are the focal point of many cultural and religious celebrations. The earliest documentation of fireworks dates back to 7th century China, where they were invented.