Ambiance has been discontinued. The app may continue to work on some devices, but there will be no more app updates in the future. All Ambiance Exclusive Sounds are still available as stand-alone, downloadable, seamless looping tracks on the official Ambiance Sound Store.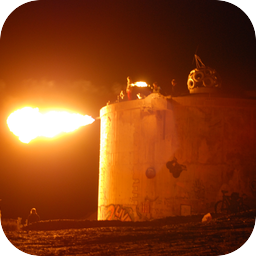 Sound Details
Rating:

4.0

Stars with

1,773

ratings
Category: Fire
Released: about 5 years ago
Size: 6.38 MB
The heat and firepower that pulses through the flamethrower can be heard as the gashes are rushed forward in a stream of fire. The air becomes charged and electric as the flamethrower sweeps across the field in front of it, lighting up the night sky in bursts of reds, orange, and yellow flames. A flamethrower is a mechanical incendiary device designed to project a long controllable stream of fire. They were first used during World War I, and widely used inWorld War II. Some flamethrowers project a stream of ignited flammable liquid; some project a long gas flame. Most military flamethrowers use liquids, but commercial flamethrowers tend to use high-pressure propane and natural gas, which is considered safer. They are used by the military and by people needing controlled burning capacity, such as in agriculture (e.g., sugar cane plantations) or other such land management tasks. They can be designed to either be carried by the operator or mounted on a vehicle.