Ambiance has been discontinued. The app may continue to work on some devices, but there will be no more app updates in the future. All Ambiance Exclusive Sounds are still available as stand-alone, downloadable, seamless looping tracks on the official Ambiance Sound Store.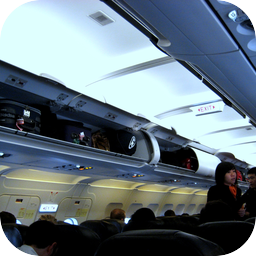 Sound Details
Rating:

4.0

Stars with

2,136

ratings
Category: Other Transport
Released: almost 5 years ago
Size: 2.21 MB
Inside the cabin, the recycled air circulates in cool breezes against the skin. The world below becomes a geometric grid, as your senses adjust to the altitude. Your ears will pop from the pressure and altitude, and then readjust themselves to the static noise of the engines. An airplane or aeroplane (informally plane) is a powered fixed-wing aircraft that is propelled forward by thrust from a jet engine or propeller. Airplanes come in a variety of sizes, shapes, and wing configurations. The broad spectrum of uses for airplanes includes recreation,transportation of goods and people, military, and research. Most airplanes are flown by a pilot on board the aircraft, but some are designed to be remotely or computer-controlled.