Ambiance has been discontinued. The app may continue to work on some devices, but there will be no more app updates in the future. All Ambiance Exclusive Sounds are still available as stand-alone, downloadable, seamless looping tracks on the official Ambiance Sound Store.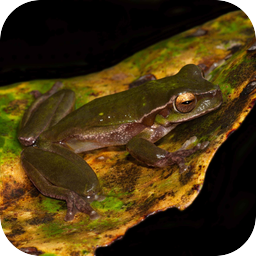 Sound Details
Rating:

4.0

Stars with

1,767

ratings
Category: Animals
Released: over 4 years ago
Size: 2.05 MB
Australia's lush rainforest are home to an incredible assortment of frogs. Deep within the tranquility, the frogs bring the forest to life, with what seems like a continuous game of call and response. Frogs are a diverse and largely carnivorous group of short-bodied, tailless amphibians composing the order Anura (Ancient Greek an-, without +oura, tail). The oldest fossil "proto-frog" appeared in the early Triassic of Madagascar, but molecular clock dating suggests their origins may extend further back to the Permian, 265 million years ago. Frogs are widely distributed, ranging from the tropics to subarctic regions, but the greatest concentration of species diversity is found in tropical rainforests. There are approximately 4,800 recorded species, accounting for over 85% of extant amphibian species. They are also one of the five most diverse vertebrate orders.