Ambiance has been discontinued. The app may continue to work on some devices, but there will be no more app updates in the future. All Ambiance Exclusive Sounds are still available as stand-alone, downloadable, seamless looping tracks on the official Ambiance Sound Store.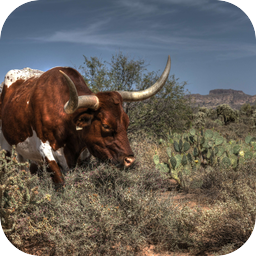 Sound Details
Rating:

4.0

Stars with

1,633

ratings
Category: Animals
Released: over 4 years ago
Size: 4.63 MB
In the scorching desert heat, the bulls seek shade beneath the few trees they can find. They communicate with one another through guttural sounds, as they make their way to water beneath the fiery afternoon sun. A bull is an intact (i.e., not castrated) adult male of the species Bos taurus (cattle). More muscular and aggressive than the female of the species, the cow, the bull has long been an important symbol in many cultures, and plays a significant role in both beef and dairy farming, and in a variety of other cultural activities.