Ambiance has been discontinued. The app may continue to work on some devices, but there will be no more app updates in the future. All Ambiance Exclusive Sounds are still available as stand-alone, downloadable, seamless looping tracks on the official Ambiance Sound Store.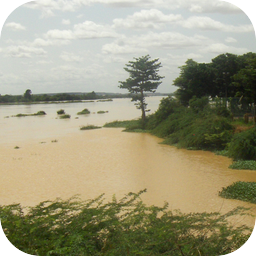 Sound Details
Rating:

3.5

Stars with

1,211

ratings
Category: Animals
Released: over 7 years ago
Size: 2.03 MB
The brown waters of the delta are the perfect place to find all the frogs gathered together, granted cover by the murkiness from frequent flybys of dangerous predators and clumsy children looking to squeeze their soft, squishy little bodies. The entire tone of the day is set by the overwhelming sounds they make, stunning the rest of the river dwellers into silence as their tune takes over the delta airwaves. The Niger Delta, the delta of the Niger River in Nigeria, Africa, is a densely populated region sometimes called the Oil Rivers because it was once a major producer of palm oil. The area was the British Oil Rivers Protectorate from 1885 until 1893. Some 31 million people of more than 40 ethnic groups including the Efik, Ibibio, Annang, Oron, Ijaw, Itsekiri, Igbo, Isoko, Urhobo, Ilaje, and Kalabari, are among the inhabitants in the Niger Delta, speaking about 250 different dialects. Nigeria has become Africa's biggest producer of petroleum, including many oil wells in the Oil Rivers. Some 2 million barrels (320,000 m3) a day are extracted in the Niger Delta. Since 1975, the region has accounted for more than 75% of Nigeria's export earnings. Much of the natural gas extracted in oil wells in the Delta is immediately burned, or flared, into the air at a rate of approximately 70 million m³per day. This is equivalent to 41% of African natural gas consumption, and forms the largest single source of greenhouse gas emissions on the planet. In 2003, about 99% of excess gas was flared in the Niger Delta.