Ambiance has been discontinued. The app may continue to work on some devices, but there will be no more app updates in the future. All Ambiance Exclusive Sounds are still available as stand-alone, downloadable, seamless looping tracks on the official Ambiance Sound Store.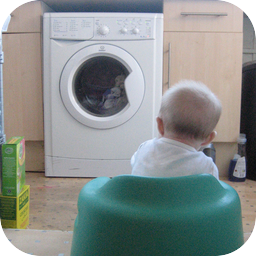 Sound Details
Rating:

4.5

Stars with

1,515

ratings
Category: Household
Released: about 8 years ago
Size: 1.82 MB
The lingering sun gives time enough for one more load as the house is slowly emptied of its smelly and sweat filled clothes, linens, and little Johnny's favorite superhero underwear. The machine endlessly turns, toiling away at a job that was once so arduous and time consuming that a set of sheets could occupy half the day. Now, with modern technology, you can clean every last blanket and bum cover before breakfast is ready. Laundry was first done in watercourses, letting the water carry away the materials which could cause stains and smells. Laundry is still done this way in some less industrialized areas and rural regions. Agitation helps remove the dirt, so the laundry is often rubbed, twisted, or slapped against flat rocks. Wooden bats or clubs could be used to help with beating the dirt out. These were often called washing beetles or bats and could be used by the waterside on a rock (a beetling-stone), on a block (battling-block), or on a board. They were once common across Europe and were also used by settlers in North America. Similar techniques have also been identified in Japan. Various chemicals may be used to increase the solvent power of water, such as the compounds in soaproot or yucca-root used by Native American tribes, or the ash lye once widely used for soaking laundry in Europe. Soap, a compound made from lye and fat, is an ancient and common laundry aid. Modern washing machines typically use powdered or liquid laundry detergent in place of more traditional soap.