Ambiance has been discontinued. The app may continue to work on some devices, but there will be no more app updates in the future. All Ambiance Exclusive Sounds are still available as stand-alone, downloadable, seamless looping tracks on the official Ambiance Sound Store.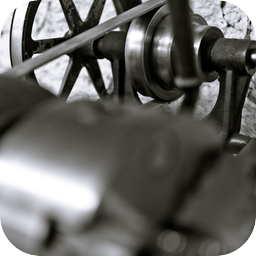 Sound Details
Rating:

4.0

Stars with

1,660

ratings
Category: Industrial
Released: over 5 years ago
Size: 1.26 MB
The great big metal wheels turn together, giving you an exciting workspace to create and repair all afternoon. To think that this old machine has probably caught the dripping blood, sweat and tears of workers past within its gears. Giving form not only to the mechanics of old trains, but to the very foundations of your proud nation, in an endless cycle of repair and renewal. A lathe is a machine tool which rotates the workpiece on its axis to perform various operations such as cutting, sanding, knurling, drilling, or deformation. The lathe is an ancient tool, dating at least to ancient Egypt and known and used in Assyria and ancient Greece, from around 1300 BC when the Ancient Egyptians first developed a two-person lathe. One person would turn the wood work piece with a rope while the other used a sharp tool to cut shapes in the wood. Ancient Rome improved the Egyptian design with the addition of a turning bow. In the Middle Ages a pedal replaced hand-operated turning, freeing both the craftsman's hands to hold the woodturning tools. The pedal was usually connected to a pole, often a straight-grained sapling. The system today is called the "spring pole" lathe. Spring pole lathes were in common use into the early 20th century. During the Industrial Revolution, mechanized power generated by water wheels or steam engines was transmitted to the lathe via line shafting, allowing faster and easier work. Metalworking lathes evolved into heavier machines with thicker, more rigid parts.