Ambiance has been discontinued. The app may continue to work on some devices, but there will be no more app updates in the future. All Ambiance Exclusive Sounds are still available as stand-alone, downloadable, seamless looping tracks on the official Ambiance Sound Store.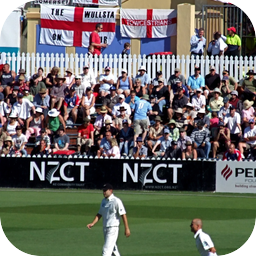 Sound Details
Rating:

4.5

Stars with

1,276

ratings
Category: Sports
Released: about 7 years ago
Size: 5.2 MB
The bright green field livens the spirits of these often overworked Londoners, filling their eyes with an afternoon of action packed sport as young and old alike savor the day's diversion. You sip on your chilled summer blend tea and take another crisp out for a fully satisfying spectator meal. Gulping down the refreshment in a fit of excitement, you stand an applaud your home team, wishing that every day could be like this. Cricket is a bat-and-ball game played between two teams of 11 players on a field, at the centre of which is a rectangular 22-yard long pitch. One team bats, trying to score as many runs as possible while the other team bowls and fields, trying to dismiss the batsmen and thus limit the runs scored by the batting team. A run is scored by the striking batsman hitting the ball with his bat, running to the opposite end of the pitch and touching the crease there without being dismissed. The teams switch between batting and fielding at the end of an innings. Cricket was first played in southern England in the 16th century. By the end of the 18th century, it had developed into the national sport of England. The expansion of the British Empire led to cricket being played overseas and by the mid-19th century the first international matches were being held. The game is played particularly in Australasia, the Indian subcontinent, the West Indies, Southern Africa and England.