Ambiance has been discontinued. The app may continue to work on some devices, but there will be no more app updates in the future. All Ambiance Exclusive Sounds are still available as stand-alone, downloadable, seamless looping tracks on the official Ambiance Sound Store.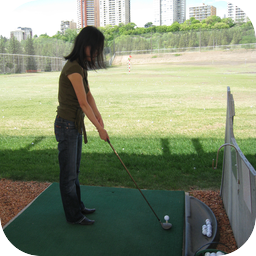 Sound Details
Rating:

4.0

Stars with

1,767

ratings
Category: Sports
Released: about 7 years ago
Size: 4.29 MB
The beautiful green grass spreads out before you like a carpet called up from the brown dry earth to turn your boredom into breathtaking fun. You setup your basket of white balls and grab a hold of your favorite club, the metal gleaming in the sunlight like a bolt of lightning reaching out from your fingertips to strike at the sky. You are the god of this sport, and your only desire is for someone else to recognize your divinity. A driving range is an area where golfers can practice their swing. It can also be a recreational activity itself for amateur golfers or when enough time for a full game is not available. Many golf courses have a driving range attached and they are also found as stand-alone facilities, especially in urban areas. Golfers pay for various sizes of buckets of balls, usually designated as small (30–50 balls), medium (50-80 balls), and large (80-100 balls), and hit at their leisure. Often there are golf professionals available to give lessons and instruction. Balls are retrieved by a specialty cart with a brush and roller attachment that automatically picks up balls and a cage that protects the driver from incoming balls. In urban and suburban areas, large nets protect surrounding people and structures from errant balls. Driving ranges are particularly popular in Japan where golf courses are overcrowded and often very expensive. Many commercial driving ranges are seen in conjunction with other sports-related practice areas such as batting cages or miniature golf, for entertainment. Some driving ranges also offer areas for practice chip shots, bunker shots, and putting.