Ambiance has been discontinued. The app may continue to work on some devices, but there will be no more app updates in the future. All Ambiance Exclusive Sounds are still available as stand-alone, downloadable, seamless looping tracks on the official Ambiance Sound Store.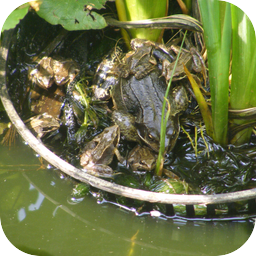 Sound Details
Rating:

3.5

Stars with

2,021

ratings
Category: Animals
Released: almost 7 years ago
Size: 2.19 MB
Frogs make up roughly 88% of all amphibian species. With 4,810 species of frogs in the Anura taxonomy order alone (the Anura order contains 33 families), it would seem that the variations and many kinds of these water-loving jumpers are endless. For certain types of frogs, ponds are essential as they are ideal living spaces and popular locations for laying eggs.