Ambiance has been discontinued. The app may continue to work on some devices, but there will be no more app updates in the future. All Ambiance Exclusive Sounds are still available as stand-alone, downloadable, seamless looping tracks on the official Ambiance Sound Store.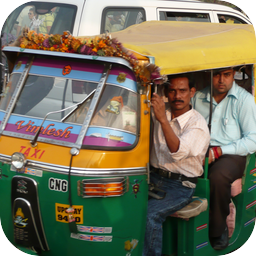 Sound Details
Rating:

4.5

Stars with

1,783

ratings
Category: Other Transport
Released: over 6 years ago
Size: 5.31 MB
The traffic is surprisingly heavy. The little auto rickshaw, or auto, beeps its horn at the cars that are all over the road. The autos are common in many Eastern countries. The word rickshaw originates from the Japanese word "Jinrikisha" (jin = human, riki = power or force, sha = vehicle), which literally means "Human-powered vehicle". An auto rickshaw is generally characterized by a sheet-metal body or open frame resting on three wheels, a canvas roof with drop-down sides, a small cabin in the front of the vehicle for the driver, and seating space for up to three passengers in the rear. Newer models are generally fitted with an CNG-fueled scooter version of a 200cc four-stroke engine, with handlebar controls instead of a steering wheel.