Ambiance has been discontinued. The app may continue to work on some devices, but there will be no more app updates in the future. All Ambiance Exclusive Sounds are still available as stand-alone, downloadable, seamless looping tracks on the official Ambiance Sound Store.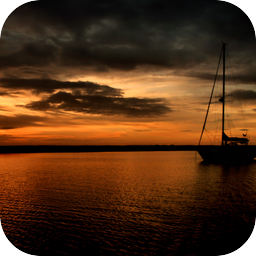 Sound Details
Rating:

4.0

Stars with

1,832

ratings
Category: Other Transport
Released: almost 6 years ago
Size: 5.21 MB
You are below deck on a sailboat, drifting on a calm ocean, enjoying a balmy evening. The waves crash softly alongside the sailboat, and sway it gently from side to side. The boat itself creaks while on the water, as a reminder of water caressing the seafaring vessel. The ocean is tranquil and lulls you into a deep sense of calm. A slow wind ushers the sails along. A sailboat or sailing boat is a boat propelled partly or entirely by sails. The generic term covers a variety of boats, larger than small vessels such as sailboards and smaller than sailing ships, but distinctions in the size are not strictly defined and what constitutes a sailing ship, sailboat, or a smaller vessel (such as a sailboard) varies by region and maritime culture.