Ambiance has been discontinued. The app may continue to work on some devices, but there will be no more app updates in the future. All Ambiance Exclusive Sounds are still available as stand-alone, downloadable, seamless looping tracks on the official Ambiance Sound Store.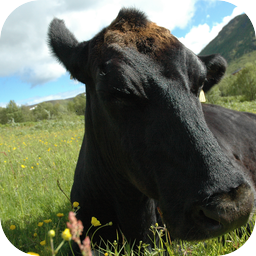 Sound Details
Rating:

4.0

Stars with

1,822

ratings
Category: Animals
Released: almost 6 years ago
Size: 4.4 MB
You are in a field of wild flowers and there is are cows grazing nearby. They are beautiful and serene animals. The look at your with fixed and curious gazes when they stop grazing. The sun is beaming down on the entire field and the sky is a clear blue. You lay down in the tall grass, close your eyes, and the sounds of the cows calling to one another are the only sounds to be heard for miles. Cattle (colloquially cows) are the most common type of large domesticated ungulates. They are a prominent modern member of the subfamily Bovinae, are the most widespread species of the genus Bos, and are most commonly classified collectively as Bos primigenius. Cattle are raised as livestock for meat (beef and veal), as dairy animals for milk and other dairy products, and as draft animals (oxen or bullocks) (pulling carts, plows and the like). Other products include leather and dung for manure or fuel. In some countries, such as India, cattle are sacred. From as few as 80 progenitors domesticated in southeast Turkey about 10,500 years ago,[2] an estimated 1.3 billion cattle are in the world today. In 2009, cattle became the first livestock animal to have a fully mapped genome.