Ambiance has been discontinued. The app may continue to work on some devices, but there will be no more app updates in the future. All Ambiance Exclusive Sounds are still available as stand-alone, downloadable, seamless looping tracks on the official Ambiance Sound Store.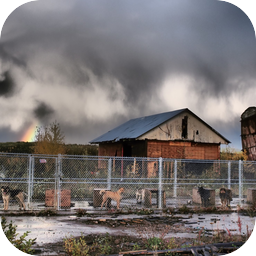 Sound Details
Rating:

4.0

Stars with

1,720

ratings
Category: Animals
Released: almost 5 years ago
Size: 3.27 MB
The majestic dogs are playful and highly excitable. Their barks fill the evening, as if they were speaking not only to you but also to one another. Their eyes are alert and as they early await their release into the backyard where they can run free. A kennel is a structure or shelter for dogs. A kennel is structure in which a dog is kept. American English often uses the word "doghouse" in this context; in British English the term "kennel" is preferred. Used in the plural, the kennels, the term means any building, collection of buildings or a property in which dogs are housed, maintained, and bred.