Ambiance has been discontinued. The app may continue to work on some devices, but there will be no more app updates in the future. All Ambiance Exclusive Sounds are still available as stand-alone, downloadable, seamless looping tracks on the official Ambiance Sound Store.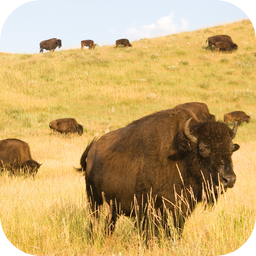 Sound Details
Rating:

4.5

Stars with

1,775

ratings
Category: Animals
Released: almost 5 years ago
Size: 5.81 MB
The herds of Buffalo as they graze across the open plains are an impressive sight. These majestic animals whose grazing patterns are determined by the availability of resources, travel together in search of food and water. Their breathing is loud and labored as they graze close by to one another. The American bison (Bison bison), also commonly known as the American buffalo, is a North American species of bison that once roamed the grasslands of North America in massive herds, became nearly extinct by a combination of commercial hunting and slaughter in the 19th century and introduction of bovine diseases from domestic cattle, and has made a recent resurgence largely restricted to a few national parks and reserves. Their historical range roughly comprised a triangle between the Great Bear Lake in Canada's far northwest, south to the Mexican states of Durango andNuevo León, and east to the Atlantic Seaboard of the United States (nearly to the Atlantic tidewater in some areas) from New York to Georgia and per some sources down to Florida.